This post may contain affiliate links or sponsored content. That means if you click on my link and buy something, I will earn a small commission from the advertiser at no additional cost to you. For more information on this, please click here.
Easy Baked Turkey Meatballs with Pesto are moist and flavorful with the fresh, bright flavor of robust basil pesto. Your whole family will enjoy these tender meatballs that pair perfectly with your favorite pasta, vegetable side, crusty bread, or fork heading right into your mouth! Read on for more.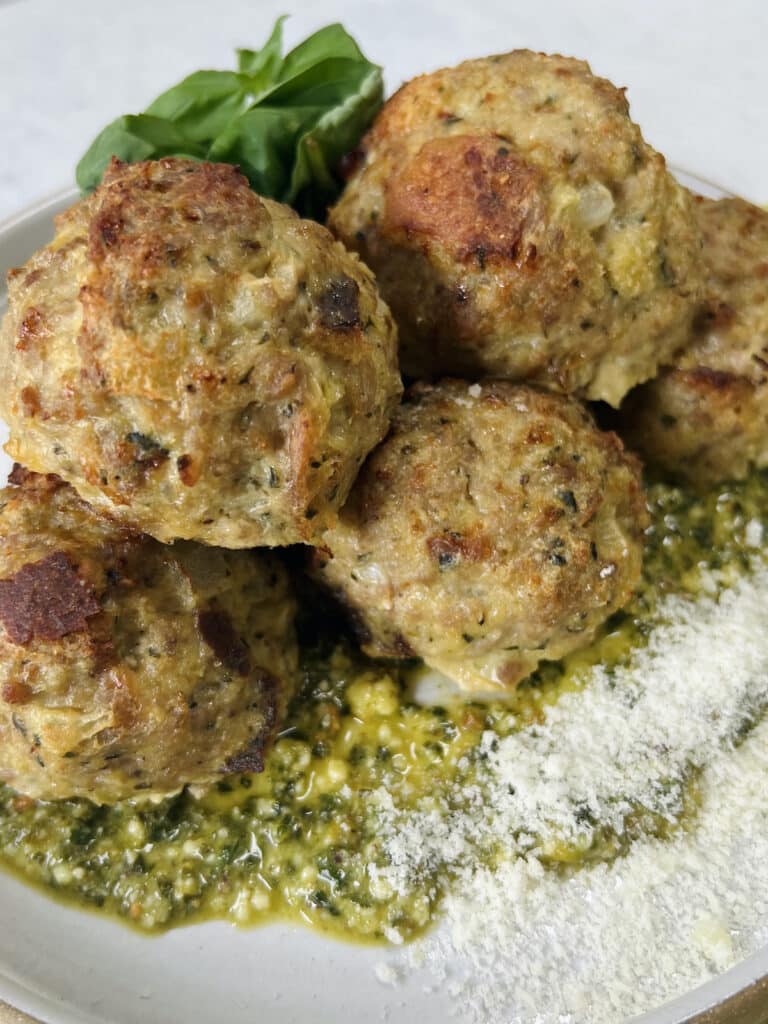 What Inspired This Recipe
If you'd like to try a delicious, meatless meatball, check out Sicilian Eggplant Meatballs (Polpette di Melanzane)–so amazing!
Ingredients for Turkey Meatballs with Pesto
Check out one of my best "Insider Tips" for making the best meatballs here, as featured in Appetito's online Italian Food and Drink Magazine.
How to Make Pesto Turkey Meatballs, with Pro-Tips!
Here are the main steps for how to make these Easy Baked Turkey Meatballs:
Frequently Asked Questions
Here are answers to some frequently asked questions about these Turkey Meatballs with Pesto:
I love eating these meatballs with a big bowl of Pasta with Broccoli!
Serving Suggestions for Turkey Meatballs with Pesto
The serving possibilities are endless! These baked turkey pesto meatballs are great as an appetizer in smaller portions or as part of your main meal. Here are a few of my favorites:
Tossed or topped with extra pesto and sprinkled with some grated Pecorino Romano cheese, then served alongside a green salad, Tuscan Panzanella Salad, or your favorite veggie. They go especially well with:
Add them to a pot of tomato sauce and serve them with your favorite pasta or over polenta. A few great options are Fresh Grape Tomato Pasta, Pesto alla Siciliana with Busiate Pasta, and Bucatini Pasta with Ricotta, Slow-Roasted Eggplant & Tomatoes.
In a Sandwich: Heated with tomato sauce, then added to a roll with provolone and shredded mozzarella cheeses and placed under the broiler for a killer turkey meatball parm hero! Or, slathered with extra pesto and on a sub roll with some fried sweet peppers or long hots–yum!
Served over fresh ricotta with additional pesto.
And, how I most enjoy eating them, sprinkled with a little bit of my favorite salt flakes and some homemade spicy pepper oil right when they come out of the oven, placed on a fork, and then directly into my mouth!
Recipe Variations for Turkey Meatballs with Pesto
Here are a few great suggestions for twists and additions to this easy turkey meatball recipe:
Use a Different Meat: You can switch out the ground turkey for chicken, beef, pork, veal, or lamb–whatever meat you prefer!
Make them Gluten Free: Easily make this recipe gluten-free by substituting the bread amount with 1½ cups of either gluten-free rolled, old-fashioned, or quick-cooking oats.
Pan-Fry the Meatballs: If you prefer a crispier texture and browner color, you can pan-fry the meatballs. To do this, add enough oil to a large, non-stick skillet to cover the bottom of the pan by about ¼". Heat the oil over medium heat and then gently transfer the raw meatballs to the hot oil. Brown multiple sides of the meatballs until an internal temperature of 165˚F is reached. Then, transfer them to either a paper towel-lined plate or a pot of sauce. Use either a pure (not extra-virgin) olive oil or a neutral oil with a high smoke point, such as avocado oil, for the pan-frying.
Use a Different Pesto: For a completely different flavor, switch up the pesto. Pesto can be made with more than just basil and is often made with peppery greens like arugula and spinach, as well as herbs like parsley, sage and cilantro.
Stuff the Meatballs with Cheese! For something a bit richer and more decadent, try stuffing the meatballs with a bit of fresh mozzarella. Just poke a hole in each rounded ball, fill it with a small piece of cheese, close up the hole, and continue with the recipe. Stuffed meatballs will take longer to cook than un-stuffed meatballs, fyi.
Add Heat: Add ½ teaspoon (or more) red pepper flakes into the meatball mix to increase the spice level.
If you like this recipe, check out Pesto Roasted Potatoes, Pasta al Pesto, Pesto alla Siciliana, Roasted Zucchini alla Scapece and Fried Italian Peppers.
Kitchen Tools & Cookware Needed